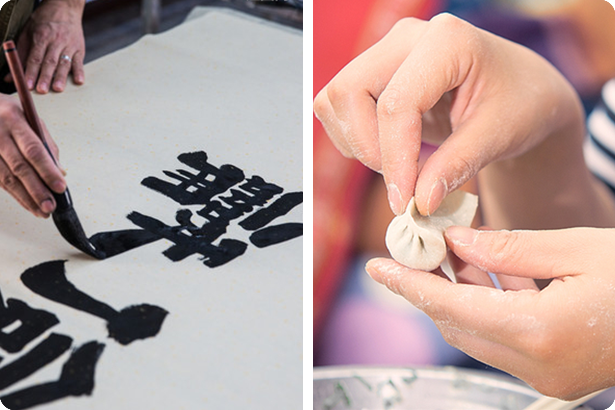 paper-cutting
Paper-cutting class is one of Children's favorite Chinese culture class,winter camp let children do themselves and cut out beautiful things with the help of the teacher.This class will leave unforgettable memories for all the children.
Making Dumplings
Dumplings of various sizes,shapes and flavours can be found all over China.We will teach you how to make one of the most common varieties-jiaozi-in our dumpling-making session.You'll learn how to...
Calligraphy
Calligraphy is the most important part of Chinese traditional culture as well as the required class that foreign students need to learn in China.Smile Chinese winter camp will let every foreign Child experience the charm of Chinese calligraphy.
Chinese painting
Chinese brush painting is an important part of Chinese history file. Use the brush, rice paper, ink, color coating, and the teacher teach you all kinds of skills. Draw a taste of Chinese brush painting as a beautiful memory of your life.
Chinese knot
Chinese knot is a traditional Chinese handicraft production,the design is various.It is symbol of happiness,goodliness and peace.The students make Chinese knot with teacher's advice,experience the fun of craft production,to produce a symbol of goodliness souvenirs.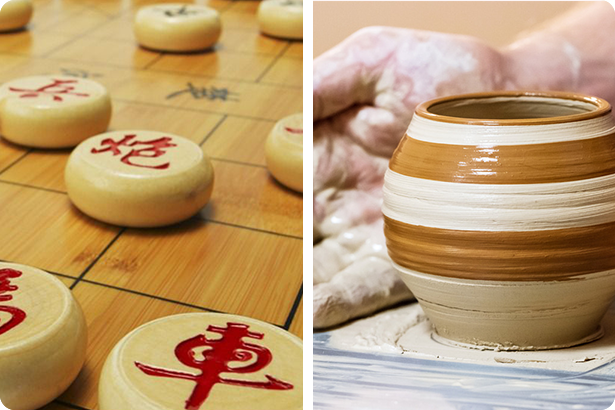 Chinese Chess
Chinese Chess or Xiangqi is a game of strategy and logic for two players.You will often see groups of Chinese men sat at the side of a street crowded around a Xianqi board shouting advice at the player...
Mahjong
Mahjong is a game similar to the Western card game,rummy.It is played with a set of 144 tiles marked with Chinese characters and symbols.The game is popular throughout China and East Asia.
Learning Chinese kung fu
China martial arts coach teach the students Chinese kung fu,the main content of wushu basic movements,posture and self defense techniques and basic kung fu.You can take a picture with your teacher as a memorial.
Pottery making
Pottery making is the most distinctive Chinese culture experience of Smile Chinese,so that the children not only relax the mood after study,but also fully appreciate the artistic style.Put the dirt in your hand,and feel it in your hand,slowly rotating,and eventually become a work of art.And then use the most beautiful colors to draw a pattern of their own.Each stroke,each painting,can let the children continue to surprise,personally experience the Chinese classic ceramic.
Mask Painting
Chinese opera might not be for everyone,but there's no denying that the masks and costumes are beautiful creations. In our mask painting workshop, you'll learn about the meaning behind each mask and ha...