Features and Forms of Summer Camp
INTENSIVE CHINESE CLASSES FOR KIDS & TEENAGERS

PROGRAM HIGHLIGHTS
WHAT TO EXPECT?
All Inclusive

We make living in China easy with airport pick-up, 3 meals per day and weekend activities!

Hotel Accommodation v

Live in the lap of luxury in our Western-style hotel accommodation.

Engaging Classes

Varied class types and content; suitable for children aged 12-17 and all Mandarin levels.

Experienced Teachers

Teachers of Smile Chinese summer camp can teach students in student's mother tongure, the student can communicate with teachers easily and understand Chinese meaning quickly.

Cultural Activities, Excursions & Field Trips

Enjoy our full program of cultural activities and field trips, as well as weekend excursions to see more of what China has to offer.

Safety First

Campers' well-being is our top priority. We make sure every child is well looked after.
VARIETY COURSES
INTENSIVE CHINESE CLASSES FOR KIDS & TEENAGERS
ACCOMMODATION

This class is designed to be entertaining and fun, while developing language ability.

CULTURAL EVENTS

Kids will learn how to write and recognise the most commonly used Chinese characters.

AIRPORT PICK-UP & MORE

Topic Chinese Classes are a great way to get kids speaking about their daily life in Chinese.
CULTURAL ACTIVITIES
IMMERSE YOURSELF IN THE CULTURE

We have cultural activities three days a week
Activities include traditional Chinese calligraphy, opera mask painting, cooking classes, Chinese knot making, mahjong and many more.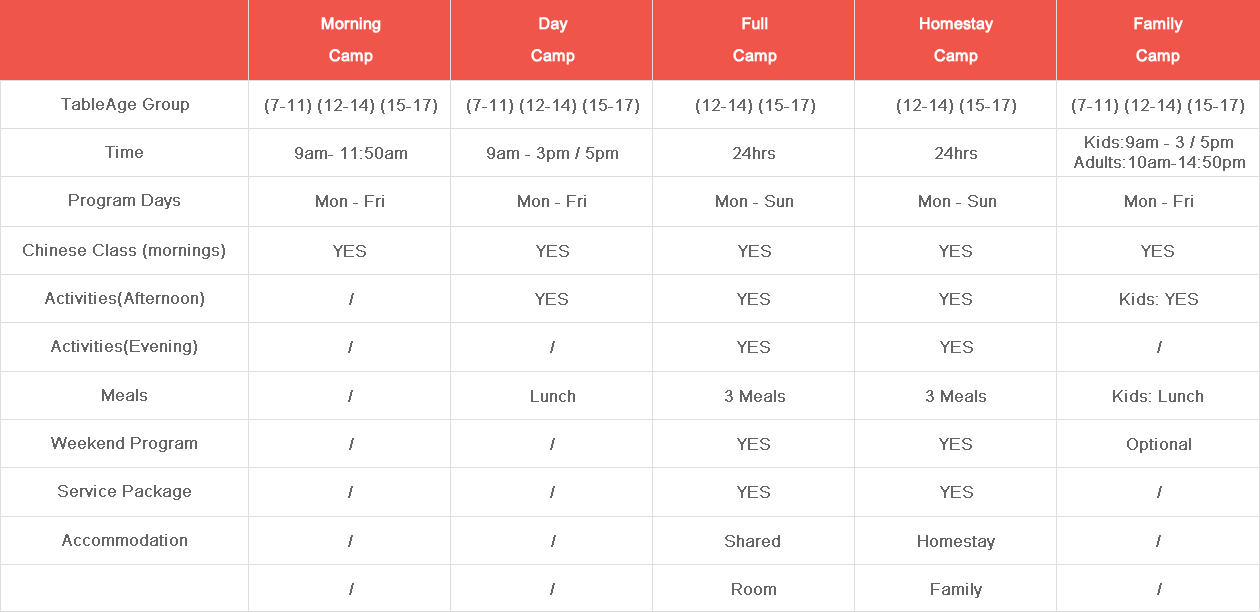 SCHEDULES & PRICES
AFFORDABILITY
No matter which of our exciting and unique Summer Chinese Camps you opt for, rest assured in the knowledge that you will be receiving value for money from our competitively-priced programs and top-class teaching and campus resources.
DISCOUNT
Make the most of our exclusive discounts by booking your Summer Chinese Camp program at least 3 months in advance or, if you loved our Summer Camp Program and would like to recommend us to a friend, you can enjoy our special "refer a friend" discount.